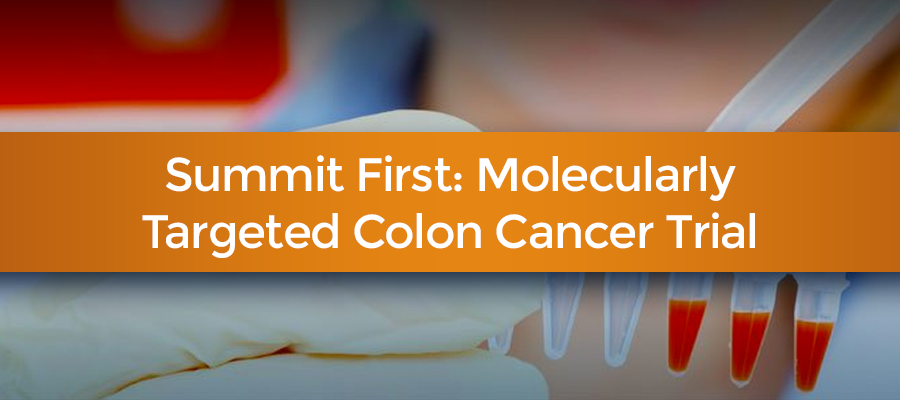 Summit Cancer Center First to Molecularly Target a Resistant Form of Colon Cancer in Our Region
Summit Cancer Centers | December 8, 2017
Share
Summit Cancer Center is proud to be the first in a six state region to molecularly target a resistant form of colorectal cancer.
Colorectal cancers with BRAF mutations have long been known to be resistant, or quickly recur, following conventional chemotherapy. Array Biopharma is testing a molecular combination that specifically inhibits the BRAF mutation. "Molecular targeted therapies have revolutionized treatment for a number of cancers over the last 20 years. As soon as this became available in 2016, we wanted to get this for our patients," says Dr. Arvind Chaudhry, the medical director and head of Summit Cancer Centers Research Trials. "This trial meets our center's mission of being a local treasure to patients who face cancers where conventional chemotherapy is not effective. We also noticed that Summit began to attract patients from other states, thus meeting our goal of being a regional resource for other cancer centers."
This molecularly targeted clinical trial is only available at a limited number of centers in the United States. Summit was the first cancer center in a six state region, including Washington, Hawaii, Alaska, Montana, Idaho, and Wyoming, where this trial is open. Due to the success of the trial, a site has since opened in Seattle, WA.
Clinical Trials for Patients from Outlying Areas
If you live in Washington, Hawaii, Alaska, Montana, Idaho or Wyoming, please review our clinical research trials and ask about our resources for patients coming from outlying areas. Summit Cancer Centers is known for rapid second opinions. Please contact us today to learn more about our clinical trials or to schedule a second opinion for yourself or a loved one.
Read the Spokesman-Review Business article about this Trial »