Scalp Cooling Cap System
Exclusively Available in the Region at Summit Cancer Centers
We are proud to offer the Paxman Scalp Cooling System to help reduce hair loss for our patients undergoing chemotherapy.
Summit Cancer Centers offers scalp cooling technology as an added benefit to patients who are facing an emotional cancer journey. Many patients consider hair loss the most feared and common side effect of chemotherapy treatment. The emotional effect is considerable and can have a dramatic impact on a patient's quality of life. Scalp cooling can be used during chemotherapy to prevent or reduce hair loss, known as chemotherapy-induced alopecia.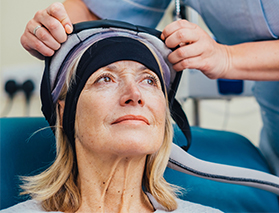 What is scalp cooling?
Scalp cooling is a simple treatment that can prevent hair loss caused by certain chemotherapy drugs. The use of scalp cooling has been proven to be effective in preventing chemotherapy-induced alopecia, or hair loss, and can result in patients retaining much of their hair. Some patients retain all of it. For patients receiving chemotherapy, scalp cooling can mean the opportunity to regain some control, ensure some privacy, and maintain a positive attitude toward treatment. Learn more about the Paxman Scalp Cooling System.
Why does chemotherapy make hair fall out?
Chemotherapy works by targeting all rapidly dividing cells in the body. Hair is the second fastest dividing cell, which is why many chemotherapy drugs cause hair loss. Chemotherapy damages hair follicles (at the root of the hair), resulting in hair loss about two weeks after the start of chemotherapy.
How does scalp cooling work?
Scalp cooling reduces the damage that chemotherapy causes to hair follicles. It does this by lowering the temperature of the scalp immediately before, during, and after chemotherapy. This in turn reduces blood flow to the area around the hair follicles, which may prevent or minimize hair loss. Our Summit healthcare professionals will help administer the scalp cooling system during chemotherapy treatments.
The Paxman Scalp Cooling Cap is an available option for our chemotherapy patients.
contact us to learn more today