Diagnostic Imaging
The latest in PET/CT diagnostic imaging technology.
What Is a Diagnostic Imaging PET/CT Scanner?
Positron emission tomography (PET) and computerized tomography (CT) are state-of-the-art imaging tools. Our board-certified Medical Oncologists and Radiation Oncologists use PET/CT scans to pinpoint the location of cancer(s) within the body before making treatment recommendations.
The PET/CT combines PET and CT technologies into a single unit, collecting both anatomical and physiological information in one precision scan. Our physicians can view the images separately or place them over each other to accurately pinpoint cancer source(s), register metabolism rates, and monitor treatment.
Once your PET/CT scan is complete, our board certified Nuclear Medicine Radiologist will interpret the images and forward a report to your care team.
What Are the Benefits of Summit's PET/CT Diagnostic Imaging?
Patient benefits include:
More diagnostic confidence and comfort during scans.
A potential reduction in invasive procedures, such as biopsies and exploratory surgeries.
A shorter exam time and faster delivery of results, eliminating a "wait and see" approach.
PET/CT diagnostic imaging helps our physicians:
Accurately locate tumors and identify benign versus malignant lesions.
Detect tumors with diagnostic confidence.
Stage cancer and recommend courses of treatment.
Monitor treatment effectiveness and make adjustments accordingly.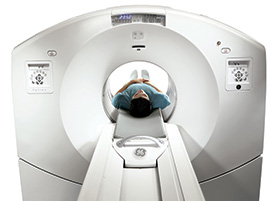 Please contact us with any questions you may have about Summit's diagnostic imaging.