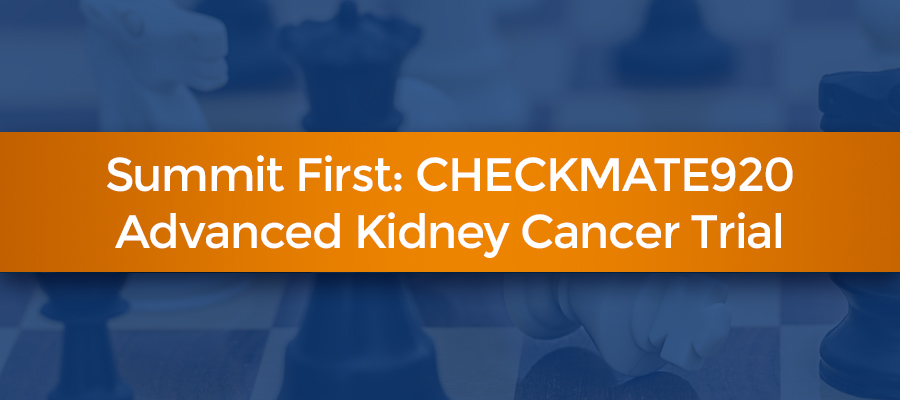 Summit Cancer Centers are First to CHECKMATE Advanced Kidney Cancer
Summit Cancer Centers | December 23, 2017
Share
Summit Cancer Centers are  first in Spokane to offer a powerful new dual immunotherapy clinical trial in the treatment of advanced kidney cancer.
The significant challenge with kidney cancer is that patients are often diagnosed at an advanced stage, and therefore, are very sick at their initial clinical visit. "We wanted options for our patients that could not tolerate the side effects associated with the molecular targeted drugs that currently make up first line treatments," said Dr. Arvind Chaudhry, Research Director at Summit Cancer Centers. "At the same time we want better response rates for our patients than what are associated with single agent immunotherapies."
CHECKMATE920 Dual Immunotherapy Clinical Trial
Enter CHECKMATE920, a study by Bristol Myers Squibb that combines two immunotherapies:  Opdivo (nivolumab) and Yervoy (ipilimumab). These immunotherapies work by preventing different mechanisms cancer cells employ to evade the immune system, thereby synergistically boosting anti-cancer responses. At Summit Cancer Centers, our goal is to have clinical trials that fill gaps in current standards of care and are available close to home – be that in Boise, Post Falls, Spokane or Spokane Valley. The FDA shares our opinion, as the combination of Opdivo and Yervoy for advanced kidney cancer just received priority review. This trial is also available in Yakima and Seattle at other cancer centers.
Summit Cancer Centers invites you to consider our extensive collection of clinical trials, and encourages you to get scheduled for an expedited clinical visit.
Contact Summit Cancer Centers today to learn more about CHECKMATE920 or to schedule a clinical visit.