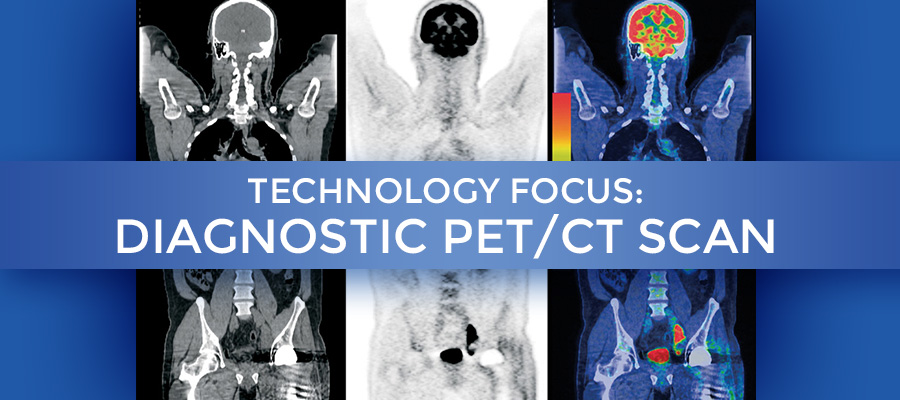 Technology Focus – The Diagnostic PET/CT Scan
Karie-Lynn Kelly, MD | September 14, 2016
Share
The Diagnostic PET/CT Scan is Incredibly Useful in the Detection  of Tumors
One of the most helpful tests to accurately determine the extent of cancer in a person is a full-body scan called a Positron Emission Tomography-Computed Tomography scan, most commonly called a PET/CT scan. A PET/CT scan can show precisely where the tumor is located, how big it is, and if it has spread to any other organs. It is also useful for assessing the effectiveness of cancer therapy. For patients receiving radiation therapy, a PET/CT scan can localize the exact position of the tumor and assist with treatment planning. This information helps deliver treatments with pinpoint accuracy.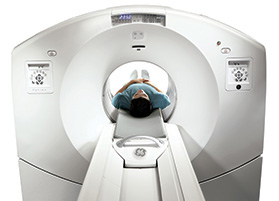 How does a PET/CT scan work?
A PET/CT scan begins with an injection of a molecule used to measure important body functions, such as blood flow, oxygen use and sugar metabolism. The PET Scanner can pick up cancerous cells where the sugar (glucose) is being taken up and the rate at which the tumor is using the glucose. Cancer cells often use more glucose than normal cells and the rate of uptake can help determine how aggressive the tumor is. These pictures are then combined with the patient's CT scan pictures to provide anatomic information. The PET and CT images are fused to show exactly where the abnormality is located.
The PET/CT combines anatomic and metabolic function and, providing a more detailed picture of the cancer than either test alone. Because of this, PET offers substantial advantages over other imaging modalities. PET scans can often distinguish between benign and malignant lesions when CT and MRI cannot.
PET was invented in the mid-1970's and was adopted first into neurology and cardiology as a valuable tool. It took more than 10 years for researchers to realize that a PET scan could also be extremely valuable in oncology. A PET scanner is expensive and requires not just sophisticated equipment, but also highly trained personnel and staff to generate the radiopharmaceutical and to read the reports.
What conditions are PET/CT scans used for?
PET/CT scans are most commonly used for lung cancer, lymphoma, melanoma, breast cancer, head and neck cancer, esophageal cancer, colorectal cancer, thyroid and gynecologic malignancies. It is now the standard of care for many oncology patients.
Summit Cancer Centers is committed to ensuring quick access to a PET/CT scan for our patients.
At Summit Cancer Centers, we know that receiving a diagnosis of cancer can cause significant anxiety. Many questions can arise with a new diagnosis such as:  What kind of cancer do I have? How big is it? Has it spread anywhere? What stage is the cancer? Most of these questions can be answered with a PET/CT scan. It is important that patients have access to a PET/CT scanner without having to wait a long time for an appointment.
We have two high-quality PET/CT scanners. The first is located in our North Spokane office. The second is a mobile PET/CT scanner that travels between our Spokane Valley location, Post Falls location and other surrounding communities. This availability ensures that patients don't have to travel far to get the important scan.
If you or someone you know has been diagnosed with cancer, call us at (509) 321-4980. One of our highly-trained physicians can determine if you may benefit from a PET/CT scan.