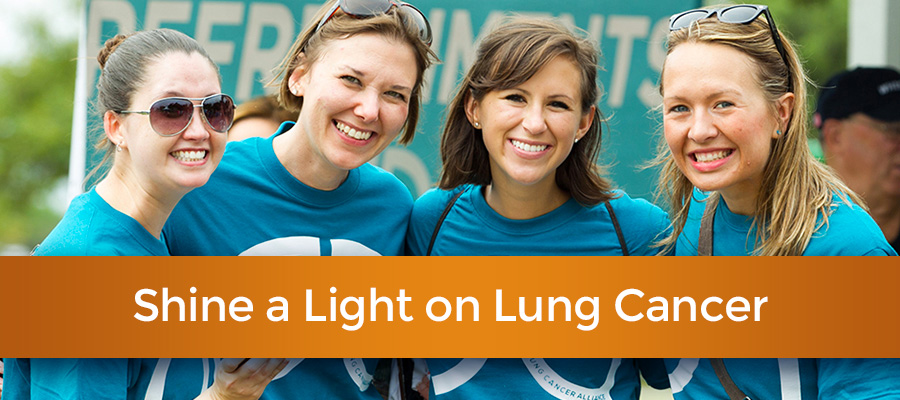 Help Summit Cancer Centers Shine a Light on Lung Cancer on November 16
Summit Cancer Centers | November 8, 2016
Share
Local Survivors  and Advocates will Unite at Summit for the Nation's Largest Lung Cancer Awareness Event.
In recognition of November's Lung Cancer Awareness Month, Summit Cancer Centers is very proud to host the 8th Annual Shine a Light on Lung Cancer event for the first  time in North Idaho. On Wednesday November 16, starting at 6:00 P.M., Summit Cancer Center Post Falls will join more than  200 cities across  the nation in  welcoming lung cancer patients, caregivers and families for this special event. We will  honor and celebrate those affected by lung cancer and recognize  the medical advances, challenges, and hope for those with lung cancer.
Stories of Lung Cancer Survivorship and Hope
The Shine a Light on Lung Cancer event will feature inspiring stories of survivorship and hope from our own hometown survivors. There will also be  important information and educational presentations from Pulmonologist Dr. Todd Hoopman, Medical Oncologist Dr. David Bartels, and Radiation Oncologist Dr. Kari-Lynn Kelly. They  will touch on the importance of lung screening, treatment options, and advanced treatment therapies.
About the Lung Cancer Alliance
Lung Cancer Alliance is the leading and highest rated nonprofit organization dedicated to fighting lung cancer in the nation. Since 1995, they  have played a critical role in every major advance. They are changing how we support, talk about, detect and treat the disease and turning those impacted into survivors. Their  mission is saving lives and advancing research by empowering those living with and at risk for lung cancer.
As part of its advocacy, the Lung Cancer Alliance Shine A Light events bring together those living with lung cancer, their families and the healthcare teams in communities across the country. They are educational events for the community. Physicians and healthcare professionals provide updates on treatment options, clinical trials and support programs. Lung cancer survivors and caregivers attending the event will provide perspective and hope to those dealing with a lung cancer diagnosis.
We invite you to join us for this very special event!
When:  Wednesday November 16, 2016 beginning at 6:00 P.M.
Where:  Summit Cancer Centers Post Falls
1641 East  Polston Ave., Suite 102, Post Falls, ID  83854