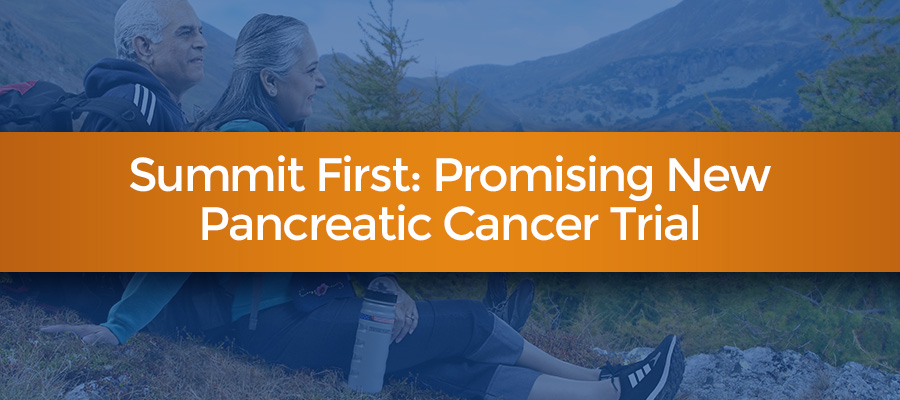 Promising New Pancreatic Cancer Clinical Trial Now at Summit Cancer Centers
Summit Cancer Centers | January 23, 2018
Share
Summit Cancer Centers is first in Washington to offer the Phase 3 Clinical Trial of Immunotherapy AM0010 for Metastatic Adenocarcinoma of the Pancreas.
"We are proud to offer an immunotherapy trial for advanced adenocarcinoma of the pancreas," states Dr. Arvind Chaudhry, Director of Research at Summit Cancer Centers. Current treatments for metastatic pancreatic cancer are limited, with high recurrence rates of pancreatic adenocarcinoma. Scientists are currently investigating immunotherapeutic options to improve outcomes for patients with pancreatic cancer.
The AM0010 Immunotherapy Trial is Showing Promise
Summit Cancer Centers aggressively pursued and obtained AM0010, an immune cell booster showing promise in early phase trials. Summit is the only cancer center in Washington State currently authorized to accrue patients on the randomized Phase 3 study of AM0010 in combination with FOLFOX, compared with FOLFOX alone as second-line therapy in patients with metastatic pancreatic cancer. While enrolled in the study, patients only need to be seen every two weeks while receiving chemotherapy, and less often while completing the immunotherapy portion of the study. This allows patients living in the region to easily access this trial.
How to Enroll in the Pancreatic Cancer Trial
If you or a loved one has pancreatic cancer, we strongly encourage you to  contact us to see if you qualify for the study.