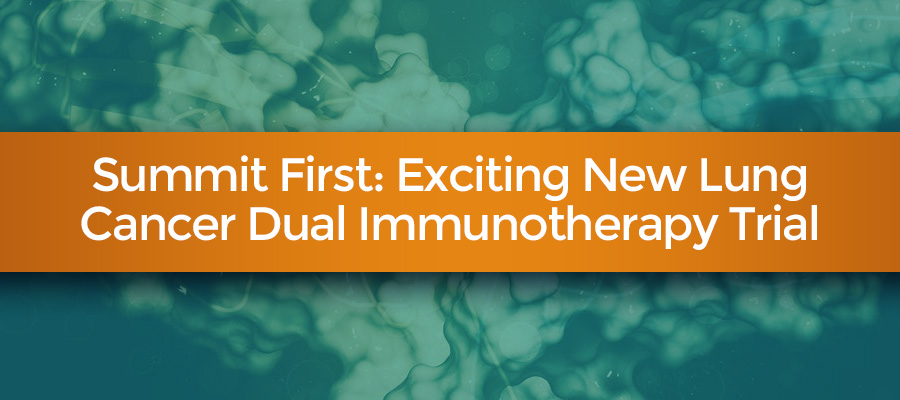 Summit First to Offer Exciting New Lung Cancer Dual Immunotherapy Trials
Summit Cancer Centers | February 7, 2018
Share
Summit Cancer Centers is First in the Inland Northwest to Obtain a New Generation of Dual Immunotherapy Trials for First Line Metastatic Non-Small Cell Lung Cancer.
Immunotherapy has revolutionized the treatment of metastatic non-small cell lung cancer. However, not every patient responds to single agent immunotherapy, either alone or in combination with chemotherapy. "We want cutting-edge therapies available to our patients," said Dr. Arvind Chaudhry, Medical Director at Summit Cancer Centers.
Merck and Incyte, two major players in the pharmaceutical industry, are collaborating to produce a therapy that combines Keytruda (pembrolizumab, made by Merck) with INCB24360 (epacadostat, made by Incyte) in the MK3475-715-02/ECHO-306 trial. A randomized phase 3 study evaluated outcomes with pembrolizumab plus epacadostat versus pembrolizumab, either plus or minus platinum-based chemotherapy as first-line treatment in patients with metastatic non-small cell lung cancer. The dual immunotherapy combination appears to have a synergistic effect with epacadostat, boosting the innate and adaptive immune responses, while pembrolizumab prevents the tumor's ability to blunt the adaptive immune response.
Summit Launching this Immunotherapy Trial in March
Summit Cancer Centers is one month away from providing this clinical trial for patients living in the Inland Northwest. This trial will also soon become available in Seattle at another center.
If you or a loved one has non-small cell lung cancer, we strongly encourage you to  contact us for more information on this study.