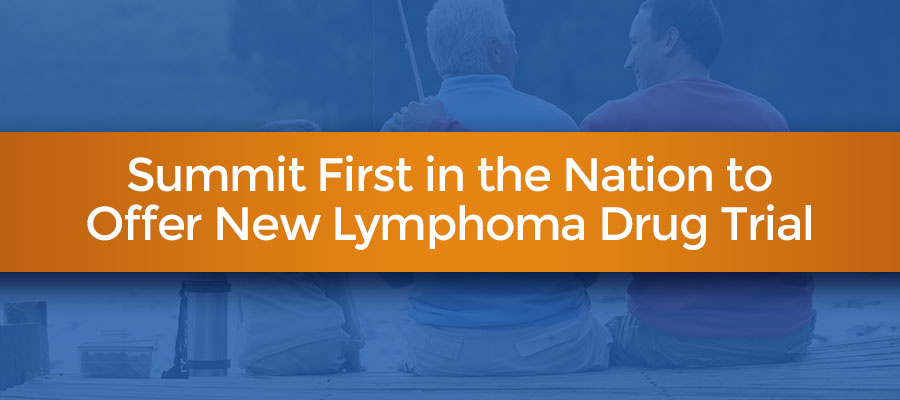 Summit Cancer Centers is First in the Nation to Offer a New Lymphoma Drug Trial
Summit Cancer Centers | January 4, 2018
Share
Summit Cancer Centers is first in the nation to offer Duvelisib, a new Lymphoma drug trial for patients with CLL who have experienced relapse on Ibrutinib.
FDA approval of Imbruvica (ibrutinib) in February of 2014 revolutionized the treatment and outcome of patients with chronic lymphocytic lymphoma (CLL). Median survival rates of CLL patients continue to increase, but half of patients taking Imbruvica still progress within five years. "We want options for our patients that no longer respond to Imbruvica," states Dr. Arvind Chaudhry, the Medical Director and Head of Research at Summit Cancer Centers. The biotechnology company Verastem is testing Duvelisib for patients that become Imbruvica-resistant. Both drugs inhibit molecular pathways that CLL cells use to grow, but Duvelisib inhibits a different pathway compared to Imbruvica, making this an attractive therapy for patients with Imbruvica-resistant CLL.
Duvelisib Offers New Hope to Chronic Lymphocytic Lymphoma Patients
The staff at Summit Cancer Centers is excited to be the first in the nation to offer this novel treatment. Summit has prioritized building an efficient, streamlined, and safe approach for getting new clinical trials up and running to bring cutting-edge protocols to the Spokane area. "To ensure the best treatment options for our patients, our goal at Summit Cancer Centers is to build a reputation for collaboration with biotechnology companies, academic centers of excellence, and other cancer centers," says Dr. Chaudhry. Summit Cancer Centers offer an expanding portfolio of carefully selected clinical trials that address holes in the current standards of care.
Patients are increasingly becoming aware of Summit's growing list of innovative clinical trials that were previously inaccessible in this part of the Inland Northwest. Patients are now being enrolled from a much larger geographic region since the news has spread. As we are currently the first in the country to offer Duvelisib, Summit Cancer Centers is excited to open our trials nationally to any patients with CLL who are no longer responding to Imbruvica.
Contact Summit Cancer Centers Today
If you or a loved one have cancer, please contact us to set up a rapid consultation and let our hard work and dedication be a resource to you and your family.