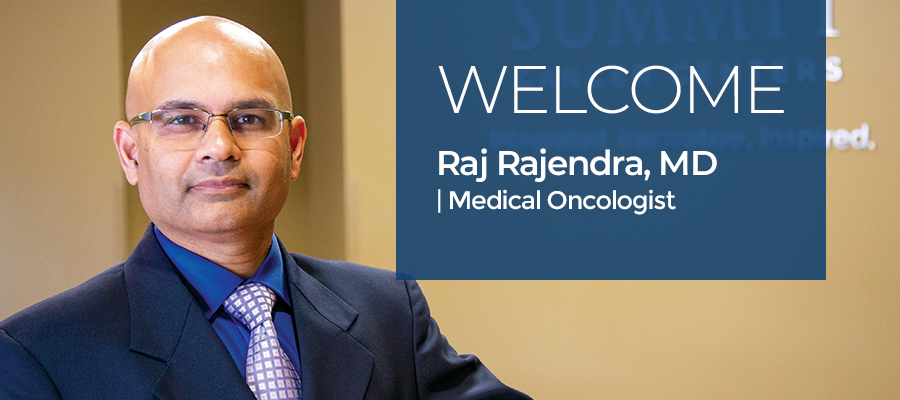 Summit Welcomes "Dr. Raj", Medical Oncologist
Summit Cancer Centers | November 16, 2018
Share
Summit Cancer Centers is very happy to welcome Dr. Raj Rajendra to our Medical Oncology team.
Summit Cancer Centers is proud to announce that Dr. Raj Rajendra has joined our Medical Oncology team. Dr. Raj is currently practicing at the Post Falls cancer center.
About Raj Rajendra, MD
Dr. Rajeev Rajendra, or "Dr. Raj" as he is known to his patients, believes in treating each patient as a whole, combining various modalities, such as Western Medicine; Eastern philosophies such as Acupuncture, Ayurveda and herbal medicine; Reiki; and dietary modifications to help his patients. He believes that medical practice is a lifelong commitment to the service of people. He considers everyone who walks through Summit's doors to be family and treats their concerns and issues with the compassion we would expect from our own family members.
Dr. Raj holds board certifications from the American Board of Internal Medicine in Internal Medicine, Medical Oncology, and is board eligible in Hematology. He is also the proud author and co-author of several medical manuscripts and abstracts.
Dr. Raj is Now Accepting New Patients
Please contact Summit Cancer Centers in Post Falls, ID at 208-618-5212.