TrueBeam HD Radiotherapy
Overview
TrueBeam HD radiotherapy at Summit Cancer Centers and Spokane CyberKnife and Radiation Oncology Center is a precise and powerful cancer treatment.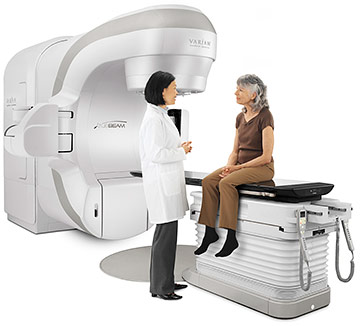 What Is TrueBeam HD Radiotherapy?
Spokane CyberKnife and Radiation Oncology Center's TrueBeam HD, available at Summit's Spokane Valley location, optimizes clinically proven therapies in a single system to destroy cancer. Combining the technology of radiotherapy and radiosurgery, TrueBeam delivers a prescribed radiation dose from nearly any angle while it rotates around patients to accurately and precisely target tumors with great speed.
This cancer treatment integrates imaging, beam delivery, and motion management to produce a system that delivers unmatched synchronization. The accuracy of the TrueBeam HD allows for the delivery of higher doses to smaller areas. This means it can be used to treat the most challenging cases all over the body.
The TrueBeam HD system can be used to apply many forms of advanced radiation treatment techniques including:
Intensity-modulated radiotherapy (IMRT) ensures accuracy for the treatment of tumors that are very close to radiosensitive normal tissues as it is able to minimize unwanted radiation exposure.
Image-guided radiotherapy (IGRT) allows radiation to be delivered to tumors with more precision than traditionally possible. This conformal radiation treatment is guided by images taken from pre-treatment CT, ultrasounds or stereoscopic X-rays. The benefit of IGRT is that it compensates for movement of the tumor due to patient positioning (as well as breathing) through automated tracking systems.
RapidArc® radiotherapy, SRS and SBRT is a new and sophisticated approach to IGRT/IMRT. The power of RapidArc technology, which has been harnessed within the TrueBeam HD, represents a major advancement in cancer treatment. The significant improvement in dose delivery and beam precision, along with shorter treatment times, benefit both patients and their families.
What Are the Advantages of TrueBeam HD Radiotherapy Treatment?
Treats the Tumor in Real-Time – TrueBeam HD's enhanced real-time imaging tools allow Summit's radiation oncology team to see the tumor and then visualize it throughout the course of treatment. Since the beam delivery is synchronized with the patient's tumor motion and respiration, complex cases – such as those in the lung, upper abdomen, and the breast – can be treated with less exposure to healthy tissue.
Accurate and Fast Tumor Treatment – With RapidArc radiotherapy technology – the high-intensity mode (which delivers higher doses of radiation) and a high-definition MLC (for greater accuracy and beam-shaping) – treatments are performed with accuracy and speed by a precise surgical X-ray beam. A typical 30 to 60 minute treatment can be completed in just 5 to 15 minutes, minimizing tumor and patient movement during dose delivery.
Enhanced Patient Comfort – With shorter treatment times, no need for head or body frames, and quiet operation, TrueBeam HD provides a comfortable patient environment. The capacity for constant interaction between the patient and the radiation therapist, along with music during treatment, creates a soothing, patient-centric environment.
Benefits include:
Rapid – Treatments are completed in minutes

Precision – Sub-millimeter accuracy

Motion management – Treats tumors that move