Radixact™ TomoTherapy
Overview
Radixact™ TomoTherapy is a highly advanced radiation therapy proudly offered at Summit Cancer Center–Boise.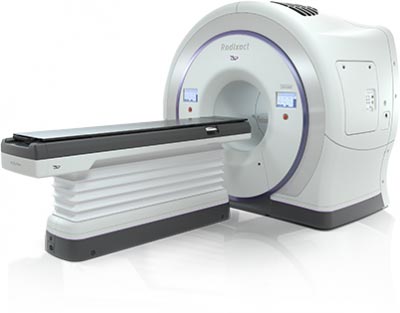 What Is Radixact™ TomoTherapy?
The Radixact™ TomoTherapy treatment system is the only radiation therapy system designed on a CT Scanner foundation. The system looks like a CT scanner because it is one. Combined with the option of innovative TomoHelical and TomoDirect radiation delivery, the all-in-one system results in more control and greater accuracy in treating a wide variety of cancers. Summit Cancer Center–Boise in Boise, ID is the only center in the western United States offering this leading-edge technology.
Daily low-dose CT imaging helps our radiation oncologists know that radiation will reach the tumor as planned, and that exposure to healthy tissue will be minimized along the way. And, these daily images can be used to monitor and maintain the prescribed treatment during each and every treatment session.
What Are the Advantages of Radixact™ TomoTherapy Treatment?
Treats a Wide Range of Cancers – Image-guided radiation therapy (IGRT) combines CT imaging and radiation delivery into a single device. This unique design makes TomoTherapy a viable option for treating a wide range of cancers, including recurrent diseases in patients who've already received maximum radiation doses to critical organs.
Customized Treatments – Customized treatment plans can be monitored and modified during the course of treatment.
Minimized Radiation Doses – Minimized radiation doses to surrounding healthy tissue can result in reduced treatment-related side effects and improves our patients' quality of life.
Ability to Treat Multiple Tumors – Simultaneous treatment of multiple tumors is possible, which means reduced treatment time and greater comfort for our patients.
Noninvasive and Painless Treatment – TomoTherapy treatment is noninvasive and as painless as having a CT scan or an x-ray.
Benefits include:
Leading-edge technology for individualized patient care

The only Radixact™ TomoTherapy in the Western United States

Multidisciplinary approach to treating cancer in a personalized and compassionate environment