CyberKnife® Radiosurgery
Overview
The CyberKnife M6 Robotic Stereotactic Radiosurgery System at Summit's Spokane CyberKnife and Radiation Oncology Center is technology that is changing cancer treatments.

What Is CyberKnife Radiosurgery?
Spokane CyberKnife and Radiation Oncology Center's CyberKnife System, available at Summit's Spokane Valley location, is the first and only dedicated non-surgical and robotic radiation treatment system for tumors throughout the body. It is designed to deliver a very precise type of external radiation treatment known as Stereotactic Body Radiation Therapy (SBRT). It is the only radiation therapy technology that automatically tracks tumor motion and adjusts the treatment beam as natural motion in the patient is detected.
The CyberKnife System is extraordinarily precise, enabling our clinicians to deliver individualized treatment with sub-millimeter accuracy through the use of continual image guidance and robotic mobility. As a result, the radiation is targeted to the tumor only, minimizing exposure of healthy tissue.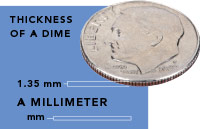 Using the CyberKnife System, Summit's radiation oncologists can precisely maximize dosages in one to five treatment sessions, minimize side effects, and maximize patient comfort during treatment.
What Are the Advantages of CyberKnife Treatments?
Precision – The precision of the CyberKnife System, delivered uniquely by its robotic arm and tumor tracking throughout treatment, makes a difference for patients. In fact, CyberKnife accuracy is sub-millimeter, meaning its pinpoint precision is within the thickness of a dime.
Outpatient Procedure – Compared to surgery, the CyberKnife System is an outpatient procedure that does not require general anesthesia or hospitalization. This means you can immediately return to your normal daily activities.
Enhanced Patient Comfort – The CyberKnife System was designed with patient comfort as a priority. There are no uncomfortable head cages needed with CyberKnife.
Minimal Side Effects – Designed to avoid healthy tissue and critical anatomy, the CyberKnife System's precise stereotactic radiation can dramatically minimize side effects.
FDA-Approved – The FDA provided clearance for the CyberKnife® Radiosurgery System in 2001 for tumors anywhere in the body.
Read more about CyberKnife vs. Gamma Knife
CyberKnife vs. Gamma Knife
How CyberKnife tracks tumors in the body with motion management.
Watch this video to learn how CyberKnife uses advanced image guidance technology to treat only the intended tumor area using respiratory tracking.
Benefits include:
Painless, non-surgical cancer treatment

1 to 5 treatments

Pin-point surgical accuracy

Few to no side effects

Improved patient outcomes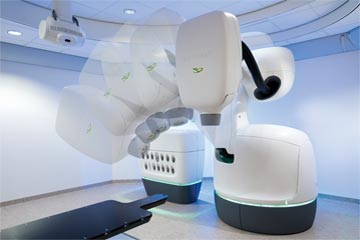 Additional Information