Raj Rajendra, MD
Medical Oncologist
Dr. Raj Rajendra is board certified in Internal Medicine and Medical Oncology.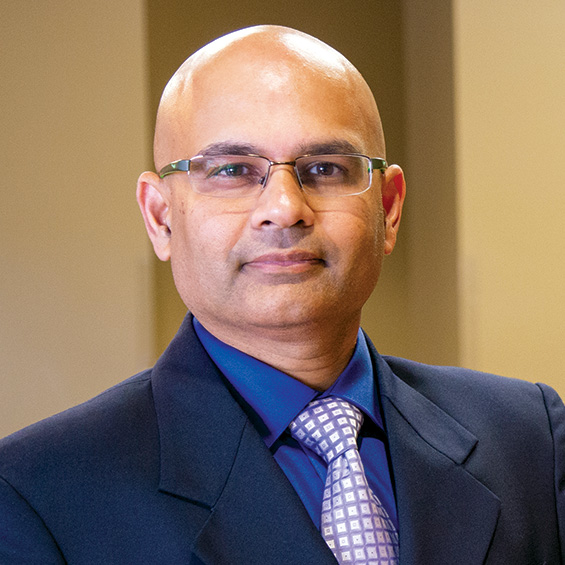 Dr. Rajeev Rajendra, or "Dr. Raj" as he is known to his patients, believes in treating the patient as a whole and combines various modalities including, but not limited to, Western Medicine; Eastern philosophies such as Acupuncture, Ayurveda and herbal medicine; Reiki; and dietary modifications to help his patients. 
Dr. Raj believes that medical practice is a lifelong commitment to the service of people. He considers everyone who walks through the doors of the clinic to be family and treats their concerns and issues with the compassion we would expect from our own family members.
Dr. Raj graduated with a Master's in Pharmacology and Toxicology from the Rutgers University. He then worked with the University of Maryland in Baltimore helping design and coordinate clinical trials in Radiation and Medical Oncology. This was followed by additional training in Internal Medicine at I.U. Health, Ball Memorial Hospital in Indiana and culminated with a Hematology Oncology Fellowship at the Fred Hutchinson Cancer Research Center, University of Washington.
Dr. Raj holds board certifications from the American Board of Internal Medicine in Internal Medicine, Medical Oncology, and is board eligible in Hematology. He has affiliations with the American Society of Hematology, the American Society of Clinical Oncology, and the American College of Physicians. Dr. Raj is also the proud author and co-author of several medical manuscripts and abstracts.
Education
Fellowship
Hematology/Oncology, UW/ Fred Hutchinson Cancer Research Center – Seattle WA
Residency & Internship
Internal Medicine, IU Health, Ball Memorial Hospital – Muncie, IN
Medical School
D.Y. Patil Medical College – India
Board Certification
Internal Medicine, Medical Oncology
Board Eligible
Hematology
Memberships
American Society of Hematology
American Society of Clinical Oncology
American College of Physicians